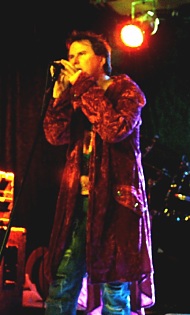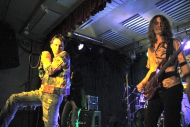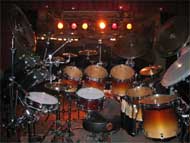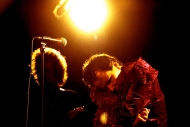 Forthcoming Gigs
Ladies and Gentlemen, we're back!
Fan Reactions
"I have to confess that Misplaced Neighbourhood made the whole thing for me! They played nearly 2 hours of Fish Era Marillion. I also have to confess to bouncing up and down on the dancefloor quite a bit! Thank you Misplaced Neighbourhood."
"Misplaced Neighborhood were brilliant! They really rocked the place and the crowd was in top form as well!"
"Meanwhile, in front of the stage, it's 1982 and the band are finishing up with a belting version of Market Square Heroes. It can't be over so soon, can it?"
Gig history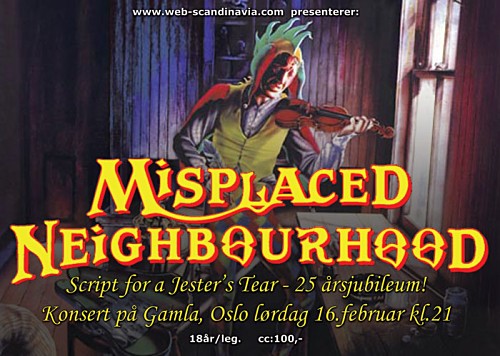 October 3rd 2014
Gamla, Oslo
with Steve Rothery, Simon Rogers and Trond Gjellum
January 11th/12th 2013
Gamla, Oslo
with Steve Rothery
April 20th 2012
Gamla, Oslo
November 21st 2009
Loftet Scene, Askøy
November 20th 2009
Rick's, Bergen
November 19th 2009
Rush Nattklubb, Stavanger
October 24th 2009
Gamla, Oslo
featuring a guest appearance from Steve Rothery (on Sugar Mice)
January 24th 2009
John Dee, Oslo
April 19th 2008
Bokken, Ålgård
April 18th 2008
Flytten, Haugesund
February 16th 2008
Gamla, Oslo
August 3rd 2007
Dirty Nelly's, Brumunddal
(with Nick Jones)
August 2nd 2007
Maiden, Oslo
(with Nick Jones)
June 23rd 2007
John Dee, Oslo
February 3rd 2007
Marillion Convention, Nederland
(Los Trios Misplacos)
March 25th 2006
Tribute, Sandnes
(with Rich Harding & Adrian Holmes)
March 24th 2006
Gamla, Oslo
(with Rich Harding & Adrian Holmes)
September 10th 2005
Sake, Trondheim
September 9th 2005
Hell Blues Festival, Hell
May 28th 2005
Private party - Holmsbu
(with Rich Harding)
May 28th 2005
Acoustic set Holmsbu Spa Hotel
(Lobby, with Rich Harding))
May 27th 2005
Gamla, Oslo
(With Rich Harding)
January 21st 2005
Gamla, Oslo
September 11th 2004
Sake, Trondheim
July 3rd 2004
Privaten, Holmsbu
(Sold out!)
July 3rd 2004
Acoustic set, Holmsbu Spa Hotel
(Outdoors)
July 2nd 2004
Gamla, Oslo
January 21st 2004
Gamla, Oslo
October 11th 2003
Amatøren, Oslo
(Marillion Fan club convention)
June 21st 2003
Pakkhuset, Farsund