Latest News - 2013 Gig - Updated 27/12/2012
Our next outing will be very special - on Friday, January 11th, Steve Rothery will be playing several tracks with us at a gig organised by The Web Scandinavia! Rich's main band, Also Eden, will be supporting on the evening. The following day, Steve will be giving a guitar clinic, followed by some acoustic sets by Misplaced and Also Eden. !! IMPORTANT - THIS IS NOW ALSO TAKING PLACE AT GAMLA AND IS FREE !! He will also be displaying some of his "Postcards From The Road" photography. See you there!
If you still don't have a ticket for Friday, they're selling fast, so Buy One!.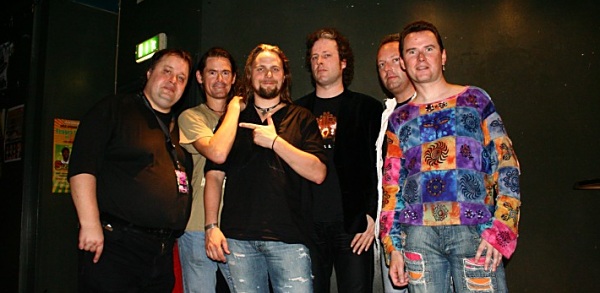 Updates:
John Dee photos here (27/05/09)
Profile of former singer Eva Dalsgaard (26/05/08)
Photos from Gamla (01/03/08)
More MP3s from Gamla (26/02/08 - Jigsaw and Blind Curve added to He Knows You Know)
Some more news (14/02/08)
First Maiden photos here (14/08/07)
Some more John Dee photos here (29/07/07)
First photos now here !! (26/06/07)
Playing Tribute to Marillion (24/06/07)
Another Los Trios Misplacos Video (03/03/07)
Hell Blues Festival and Swap the Band pictures (18/02/07)
Misplaced Drifters and Los Trios Misplacos pictures (17/02/07)
Audio from Gamla '05 and '06 (04/11/06)
Misplaced Neighbourhood became so named because they were scattered over a large area of Norway: Oslo, Stavanger, Ålgård and Trondheim. After a while they became more Misplaced than ever by acquiring a British singer who lived in The Netherlands (although he's back in the UK now)! This means that the band have nearly no time to rehearse before a gig. With this huge obstacle in mind, they've played many of Marillion's finest moments of music. And they do it with style. The band's faithful fans come back for every gig, and make their concerts a time to remember. The symbiosis between the audience and band is fantastic and should be experienced. Check Gigs for info on their next gig. You'll also find their gig history there. Hear Misplaced perform under Audio, and see pics from the gigs under... you got it - Pics.

Join Misplaced Neighbourhood on the web and maybe one day you'll be lucky enough to see them live :)